Just because you live in New Zealand doesn't mean that you can't still get the latest 2017 Amazon Kindle NZ models, and at a great prices! Buy your Kindle E-reader NZ NZ direct from Amazon TODAY!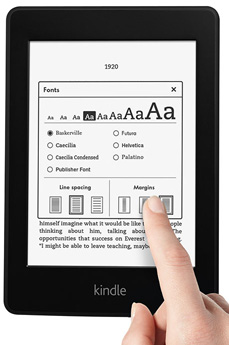 The ALL NEW Kindle Oasis NZ is the best Kindle e-reader that Amazon makes, and comes with a leather cover and battery that lasts months. It is also the thinnest and lightest Kindle ever made. Don't buy an old generation Kindle NZ from a New Zealand bricks and mortar retailer, make sure you are always buying the latest technology and sharpest screen. Amazon also produce the premium Kindle Voyage NZ which has an adaptive light sensor, page turn buttons. Amazon have released a new 3rd Generation Kindle Paperwhite NZ for 2017. This new model improves on the 2nd Generation Paperwhite model, by providing a higher resolution (300ppi) touch screen. You can also compare the different NZ Kindle models. Most Amazon Kindle NZ models can be shipped by Amazon directly to you in New Zealand at a cheap price. The Kindle NZ reads like Real Paper, and has no glare even in bright sunlight. The battery charge in the Kindle can also last for weeks, before it needs recharging.
From past experience your Amazon Kindle NZ device will usually arrive in NZ, within 7 days after ordering…that's quick!

Please use any of the links below to purchase your Amazon Kindle NZ version. You can also get Kindle NZ accessories, directly from Amazon.


Amazon Kindle NZ Models Available for Ordering
Most Kindle NZ Models can be ordered and shipped directly to New Zealand by Amazon
Compare Current Generation Amazon Kindle NZ E-readers
Compare the current generation of Amazon Kindle E-readers available for ordering from New Zealand
NEW - Kindle Oasis NZ

2017 Kindle Voyage NZ

2017 Kindle Paperwhite NZ

2017 Kindle NZ

Built-in Light
Yes - 10 LEDs for enhanced page consistency
Yes - 6 LEDs + Adaptive light sensor
Yes - 4 LEDs
No
Page Turns
Touchscreen
+ page turn buttons
Touchscreen
+ PagePress
Touchscreen
Touchscreen
Screen Resolution
300 ppi
300 ppi
300 ppi
167 ppi
Charging Cover
Included
No
No
No
Battery Life
Months
Weeks
Weeks
Weeks
Screen Size
6"
6"
6"
6"
Connectivity
Wi-Fi or
Wi-Fi + Free 3G
Wi-Fi or
Wi-Fi + Free 3G
Wi-Fi or
Wi-Fi + Free 3G
Wi-Fi
Glare-Free Screen
Yes
Yes
Yes
Yes
Storage
Holds thousands of books
Holds thousands of books
Holds thousands of books
Holds thousands of books
Weight
Without cover
Wi-Fi: 4.6 oz (131 g)
Wi-Fi + Free 3G: 4.7 oz (133 g)
Wi-Fi: 6.3 oz (180 g)
Wi-Fi + Free 3G: 6.6 oz (188 g)
Wi-Fi: 7.2 oz (205 g)
Wi-Fi + Free 3G: 7.6 oz (217 g)
6.7 oz (191 g)
Dimensions
5.6" x 4.8" x 0.13-0.33"
(143 x 122 x 3.4-8.5 mm)
6.4" x 4.5" x 0.30"
(162 x 115 x 7.6 mm)
6.7" x 4.6" x 0.36"
(169 x 117 x 9.1 mm)
6.7" x 4.7" x 0.40"
(169 x 119 x 10.2 mm)
Please note that some models are only available in the USA. However if you use NZ Posts new NZ Post YouShop service, you should be able to purchase the USA models too, and get them shipped by NZ Post YouShop to NZ. Google "YouShop" for more informtion on NZ Posts YouShop Service.

Please note that we take no responsibility for the accuracy of information or availability of products on this page, as Amazon products are regularly updated on the Amazon website. Any purchase contracts you enter into from links on this page, are between you and Amazon, as are any warranty issues , deliveries or returns. This site solely provides website links to the products for your convenience. We have no connection with Amazon, nor are we selling any of these products ourselves or on behalf of Amazon. Our links simply redirect you to the relevant product page on the Amazon website. Prices on the Amazon website are usually in US Dollars. We don't guarantee that Amazons prices will be the lowest that you may find these products sold for. Things like exchange rate and pricing changes can affect the price Amazon may charge you. We also don't provide any guarantees over purchases and delivery via NZ Post YouShop, and we have no affiliation with NZ Post YouShop. Lounge Network is a participant in the Amazon Services LLC Associates Program, an affiliate advertising program designed to provide a means for sites to earn advertising fees by advertising and linking to amazon.com. Any purchases you make from Amazon maybe subject to additional import duties, GST and other fees. You can find out by contacting NZ Customs.
Looking for Quality New Zealand Web Hosting, we operate under the following web hosting brands: