Kindle Paperwhite Review – UPDATED June 2015.
Amazon have now released a brand new 3rd Generation Kindle Paperwhite NZ for the 2015-2016 year. This features a new high resolution display (300ppi).  Amazon do also have their top of the range  Kindle Voyage NZ. If you want the Latest and Greatest of Amazons Kindle E-book readers, view Amazons Kindle NZ range here.  Also read our NZ Kindle Voyage review here.
We have always been a fan of Amazon Kindle and it's E-ink technology, since the first kindle was released back in 2008. When we heard that the new Kindle Paperwhite would have a new high resolution 212 ppi (Pixel density) screen, as well as incorporating an illuminated screen, we knew we had to do a Kindle Paperwhite Review.
The benefit  Kindles and their E ink screens have over traditional LCD screens, is that they allow people to read electronic documents as if it is printed on paper. This includes in all environments and lighting conditions, which helps to make E ink displays much easier on the eyes than traditional LCD backlit displays, and perfect for reading with. Since 2008,  E-ink screens have improved alot, with higher resolution and faster page changes, as well as substantially lower prices.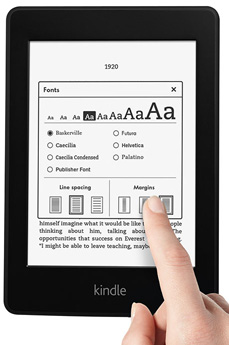 Purchasing from New Zealand via our Kindle NZ Order Website, it only took 5 days to be delivered to us door to door from the US to NZ, which is amazingly fast. We decided to go for the WiFi version, which worked out at around $US150 including postage. This converted to less $190 NZ dollars, which was quite a bit less than we could get it from NZ retailers. There is also a NZ 3G Kindle Paperwhite version available, which gives free 3G access via New Zealands Vodafone network, to download books via the Amazon website. The 3G version is not currently available in NZ retailers to date, but can be sourced by going though our NZ Kindle website.
The packaging and presentation was very well done, in a nice simple black cardboard  box with white cardboard inserts, all recyclable. It wasn't quite on  par with Apples packaging presentation, but it wasn't far off.
View our NZ Kindle Paperwhite unboxing video below:
Buy a NZ Kindle Paperwhite Now
The Kindle Paperwhite E Reader device itself, is very well done. You could almost regard as the perfect Kindle, comprising of years of improvements and tweaks, and the stripping out of lesser used features to reduce it's bulk and price, to make it just an E Book reader.
It is a nicely built kit, light weight all plastic build, with a grippy back coating. The first thing you notice after turning it on, is that the screen is lit, apparently by LEDs from the side illuminating it's front surface. The affect is good. You can adjustthe screen brightness easily from the main menu. The screen is always lit to a certain degree, even on it's lowest light setting. The lighting only goes off when the Kindle when goes into sleep mode, or switched off, when it will display a screen saver image.With older generation Kindles you could easily see the jaggedness of the text on the screen if you looked closely, however with the Kindle Paperwhite, any jaggedness is almost indiscernible. We would consider the text quality as good as a printed book.
View our Kindle Paperwhite demonstration video, trying our some of it's features:
Buy a NZ Kindle Paperwhite Now
The touch screen is also vastly improved. It now appears to be using a capacitive touch screen, meaning you only have to lightly touch the screen for it to change page. The screen surface is also matt, to reduce light refection and glare. The other good thing is that finger prints were barely noticeable.
The Kindle Paperwhite also includes an experimental web browser, allowing you to browser the internet and use web based email. This works well, the E Ink screen has limitations due to it's relatively slow refresh rate compared to traditional LCD screens. But we tested sending an email via web mail and the on-screen touch keyboard, and it worked well, but we wouldn't want to do it too often.  The 'article mode', which displays an enlarged text only version of a webpage works very well.
Buy a NZ Kindle Paperwhite Now
Conclusion:
We believe that Amazon have done an excellent job with this latest generation Kindle Paperwhite, which pushes it ahead of other brands of E Book readers. Especially with it's higher resolution 212ppi screen, and would definitely recommend getting one.
We would also recommend buying a cover which has a build in Magnetic Cover that automatically wakes up or puts your Kindle device to sleep by opening or closing the cover. There are plenty available on the Amazon Kindle website.
Pros:
Excellent Screen Resolution
Inbuilt light
Nice simple user interface
Multi Touch Screen
Web Browser built in
Very quick page turns
Small and light weight, which a very nice simple design.
Wi-Fi enabled
Email your documents to your Kindle.
Cons:
No way to fully turn off the LED light when reading. (A very minor compliant)
Doesn't have advanced features such as audio and mp3 playback. (But this is why it is so thin and light weight)
Final Conclusion:
HIGHLY RECOMMENDED
We would recommend paying a bit more, and getting the 3G version of the Amazon Kindle Paperwhite, as your get FREE 3G access to download Amazon E-Books where ever you are in NZ.
If you choose to buy the Amazon Kindle Paperwhite, either Wifi or 3G version,  please support us by buying via our NZ Kindle Order Form, by clicking the button below.
Buy a NZ Kindle Paperwhite Now
Update April 2014:
Amazon have now released a firmware update for the Kindle Paperwhite, which now brings the internal software almost inline with the Kindle Paperwhite Next Gen (version 2). It adds features such as
The the Kindle Paperwhite e-reader now supports many of the popular features of Amazon's second-gen Paperwhite, including Goodreads integration, FreeTime parental controls, and Page Flip.
The update also brings a Smart Lookup feature and Cloud Collections, which lets users organize content in to custom categories.
The Paperwhite update can be downloaded from Amazon , and installed manually by connecting your Kindle to your PC via USB. Or you maybe able to automatically update it inside the device over wifi. However when we tried doing it automatically, the Kindle Paperwhite didn't detect the update. So we had to update it manually.
Update January 2014:
We have now been using the Kindle Paperwhite for about 6 months. It has performed flawlessly, and continued to be a very useful tool. There has been no signs of wear or any technical issues to report.
We have read some reports of people who have had problems with the uniformity of the screen illumination, from the kindles side lighting. Apparently some people had reported that the lighting was patchy, and apparently Amazon had replaced those affected users Kindle Paperwhites with a new one. We haven't noticed this problem on ours, and it may have only affected certain batches.  Apparently there has been a software update released that fixes a few bugs. But as we haven't experienced any problems, we haven't bothered to update it.
We do regret a little not buying the 3G version , but the WiFi version is still a great device.
Amazon have now updated their Kindle Paperwhite for 2014, with new improved features. They have also now released a lot of new kindle fire devices. The new and existing models can be found below.
The Amazon Kindle is the perfect Christmas Gift. Buy your NZ Kindle Now. Amazon will also be releasing a new model sometime later in 2014, so be on the lookout for that.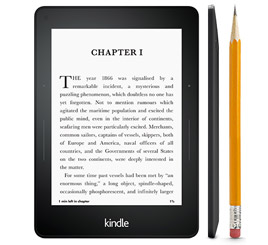 Please note that we take no responsibility for the accuracy of information or availability of products on this page, as Amazon products are regularly updated on the Amazon website. Any purchase contracts you enter into from links on this page, are between you and Amazon, as are any warranty issues , deliveries or returns. This site solely provides website links to the products for your convenience. We have no connection with Amazon, nor are we selling any of these products ourselves or on behalf of Amazon. Our links simply redirect you to the relevant product page on the Amazon website. Prices on the Amazon website are usually in US Dollars. We don't guarantee that Amazons prices will be the lowest that you may find these products sold for. Things like exchange rate and pricing changes can affect the price Amazon may charge you. We also don't provide any guarantees over purchases and delivery via NZ Post YouShop, and we have no affiliation with NZ Post YouShop. Lounge Network is a participant in the Amazon Services LLC Associates Program, an affiliate advertising program designed to provide a means for sites to earn advertising fees by advertising and linking to amazon.com. Any purchases you make from Amazon maybe subject to additional import duties, GST and other fees. You can find out by contacting NZ Customs.