Amazon have just released a brand new Amazon Fire TV Stick for 2017, and it now has their voice recognition system Alexa, built into it. Although it looks similar to the older Fire TV NZ stick, it has a new UI (user interface) and a 30% faster chip, allowing it to run the Alexa voice assistant.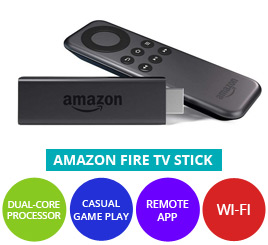 As the new Amazon fire TV stick has Alexa built in, it means that users can use their remote control to ask Alexa questions and perform tasks. Many of these questions and tasks are things that owners of the Amazon Echo NZ  and Echo Dot NZ products have been doing for several years. Such questions include 'What's the weather like today in Wellington, New Zealand'. Or 'Set an alarm for 10 minutes'. Or 'Tell me a joke', or even just say 'knock knock…'.
As the Amazon Fire TV Stick is a streaming video player, Alexa can be used for many different things to make navigation easier. For example, when watching a video, you could ask 'Alexa to rewind by 15 minutes'.
Perhaps the only thing the new Amazon Fire TV stick is missing is 4k video.  However even the Apple TV doesn't currently have that, and the video content is still very limited. But due to the the low cost of these streaming devices, it means that people do regularly update to the newer version of these devices when new models come out, and the old version can be used on a second TV, or given to a friend.
The new version of the Amazon Fire TV Stick will be available from the 2nd March 2017. However people can pre-order it now from the Fire TV NZ page. As with previous models, the Amazon Fire TV stick,  it is currently only being sold directly to customers in the USA. But as with the previous versions of the Amazon Fire TV products, New Zealander can buy it, and get it shipped to New Zealand using the NZ Post YouShop service. Order your  Fire Stick NZ by clicking here.
Order the 2017 Amazon Fire TV Stick