Amazon has just announced that they have just launched Amazon Prime Video NZ in New Zealand. This means that New Zealanders can access popular shows such as the new 'Grand Tour', featuring Jeremy Clarkson,  Richard Hammond and James May. They do currently also have a Free Trial.
Currently Amazon Prime Video NZ offers a cheaper option to competing online video steaming services, such as Lightbox and Netflix. Amazon Prime Video NZ members are also able to download films and tv shows for offline viewing on their mobile device, for when people are away from the internet. This is perfect when travelling in the car or on the train. This is a big advantage over some other online streaming only services, which require an internet connection at all times.
Amazon Prime Video NZ can be accessed using apps on many Apple and Android devices. It can also be accessed from Amazons own low cost Amazon Fire Tablet NZ tablets which you can purchase here.
Amazon do currently offer a FREE TRIAL for new Amazon Prime Video NZ accounts. So what do you have to lose?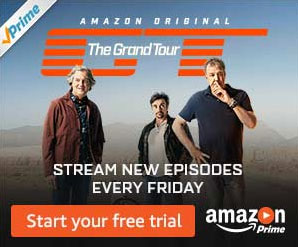 Please note that we take no responsibility for the accuracy of information or availability of products on this page, as Amazon products are regularly updated on the Amazon website. Any purchase contracts you enter into from links on this page, are between you and Amazon, as are any warranty issues , deliveries or returns. This site solely provides website links to the products for your convenience. We have no connection with Amazon, nor are we selling any of these products ourselves or on behalf of Amazon. Our links simply redirect you to the relevant product page on the Amazon website. Prices on the Amazon website are usually in US Dollars. We don't guarantee that Amazons prices will be the lowest that you may find these products sold for. Things like exchange rate and pricing changes can affect the price Amazon may charge you. We also don't provide any guarantees over purchases and delivery via NZ Post YouShop, and we have no affiliation with NZ Post YouShop. Lounge Network is a participant in the Amazon Services LLC Associates Program, an affiliate advertising program designed to provide a means for sites to earn advertising fees by advertising and linking to amazon.com. Any purchases you make from Amazon maybe subject to additional import duties, GST and other fees. You can find out by contacting NZ Customs.