Time is quickly running out for ordering your New Gen Amazon Kindle NZ, if you want to get it in time for Christmas.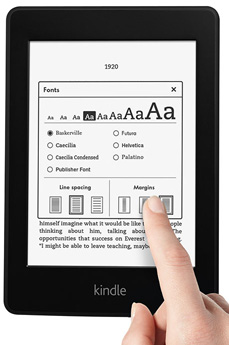 The New Gen NZ Kindle makes the perfect Christmas gift, and is far better than a single book, as you can literally store hundreds of books on a single kindle device. Many of the retail stores in New Zealand that sell Kindle Paperwhites, are still selling the older 2012/13 generation Kindle, instead of the new 2014 New Gen Kindle Paperwhite. They also maybe selling them for more, than you can purchase them via our Kindle NZ Order Page for.
Buy a NZ Kindle Paperwhite Now
If you are buying a New NZ Kindle, you want to make sure it is the newest version, which has a range of improvements over the older generation one. These improvements include
New Display Technology – Highest ever contrast
Next Generation Built-in Light – Best reading experience day and night.
25% Faster Processor
Other improvements include:
Whiter Screen, Darker Text
IMPROVED—Enjoy even better contrast on the latest Kindle Paperwhite. Whites are whiter and blacks are blacker, creating sharp, clear text. The high-resolution display allows for elegant typeface options including Baskerville and Palatino, and all fonts on Kindle Paperwhite have been hand-tuned at the pixel level for maximum readability and comfort.
Fast, Easy Page Turns
IMPROVED—The new Kindle Paperwhite's processor is 25% faster. Books open and pages turn faster for a seamless experience. Kindle Paperwhite also uses the latest in capacitive touch technology, more accurately responding to the smallest touches.
Flip Through Without Losing Your Place
NEW—With Kindle Paperwhite's new Page Flip feature, you can skim page-by-page, scan by chapter, or skip to the end for a sneak peek without losing your place.
Take and Share Notes
Add margin notes that you can edit, delete, or even export from Kindle Paperwhite to your computer. Share highlighted sections and meaningful quotes on Facebook and Twitter, and see passages frequently highlighted by other Kindle readers.